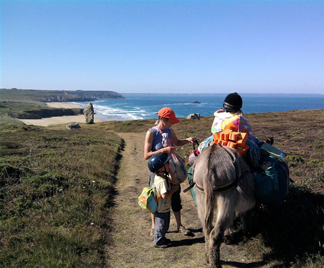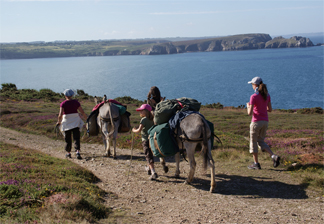 Why take advantage?
Discover hiking, accompanied by a pack donkey. The donkey, a friendly companion, will carry your luggage or tired children along the paths of the peninsula. Donkey hire for half-day to week-long hikes, by prior arrangement. Groups welcome (families, works councils, schools, leisure centers, etc.).
Group activities for families during the school vacations (registration required)
Little donkey farmer: Discover the cuddly, endearing animal that is the donkey, and learn how to look after it for half a day:
● Donkey grooming: an opportunity to learn more about this animal
● Follow the walk: donkeys and a small carriage accompany parents and children along the paths around the farm.
Wednesday afternoons, from 2:30 to 4:30 p.m. and Friday mornings from 10 a.m. to 12 p.m. - 40€ per family (4-5 people)
Petit fermier : Discover the animals of the farm:
● Feed preparation
●Feeding, observation and handling of animals (chickens, ducks, geese, rabbits, goats, sheep, pigs)Friday afternoons from 2:30 to 4:30 pm and Wednesday mornings from 10 am to 12 pm - €40 per family (4-5 people)
More info at www.oceane-crozon.net
Self-guided family walks with a donkey all year round.
We choose the donkey that will accompany you according to the composition of your family, and we prepare it with you.
After some practical advice, and armed with an IGN map on which your itinerary is marked out, you're off with your family for a half-day or full-day hike.
Price: 35€/donkey for half a day - 65€/donkey for a full day.
Groups on request. Vacation vouchers accepted.
Open all year round by reservation, free access to the animated farm outside supervised sessions.
For further information and bookings, visit www.oceane-crozon.net or call 06 32 24 86 19.
Main services
Accessible PMR

Groups of 5 to 50 people

Pets allowed
Labels
Regional Nature Park values
Rates
Children's rate

farm discovery wednesday
Base rate

donkey rental by 1/2 day or day
donkey hire: 35 euros for half a day and 50 euros for a full day; Wednesday discovery activities during school vacations for children aged 3 to 12, from 9.30am to 12pm: 10 €/child and Friday family activities (parents, children, grandparents) at the same rate of 25 €/family.
reservations essential for all activities
Means of payment
Bank and postal cheques

Vacation vouchers

Species

VACAF

Transfer
Opening hours
From 01/01/2023 to 12/31/2023
we have an open-access area for families, with a picnic area and barbecue, so you and your family can enjoy the animals on the animated farm.
Horseback riding
Océ'âne
Kerael
29160 Lanvéoc